Reset, A 7-Day Brain Retraining Course
A 7-day program designed to help you get out of a state of fight-flight-freeze

This short course is designed to reset your survival responses and give you a taste of what it's like to be a brain retrainer inside Rewire, The Vital-Side Membership. You'll receive one short video (7 minutes or less) every day for 7 days that includes quick, daily techniques to help you make positive changes to your brain and connect to your body's natural resilience.
This if for the person with chronic symptoms of pain, fatigue, anxiety, dizziness, & other chronic symptoms, who is wanting to learn more information about the brain & body communication. This video series offers you the basics on how we can reset our autonomic nervous system to shift out of a survival state. You'll leave with one tool to schedule throughout the day to reset your autonomic nervous system and access a state of rest-and-digest.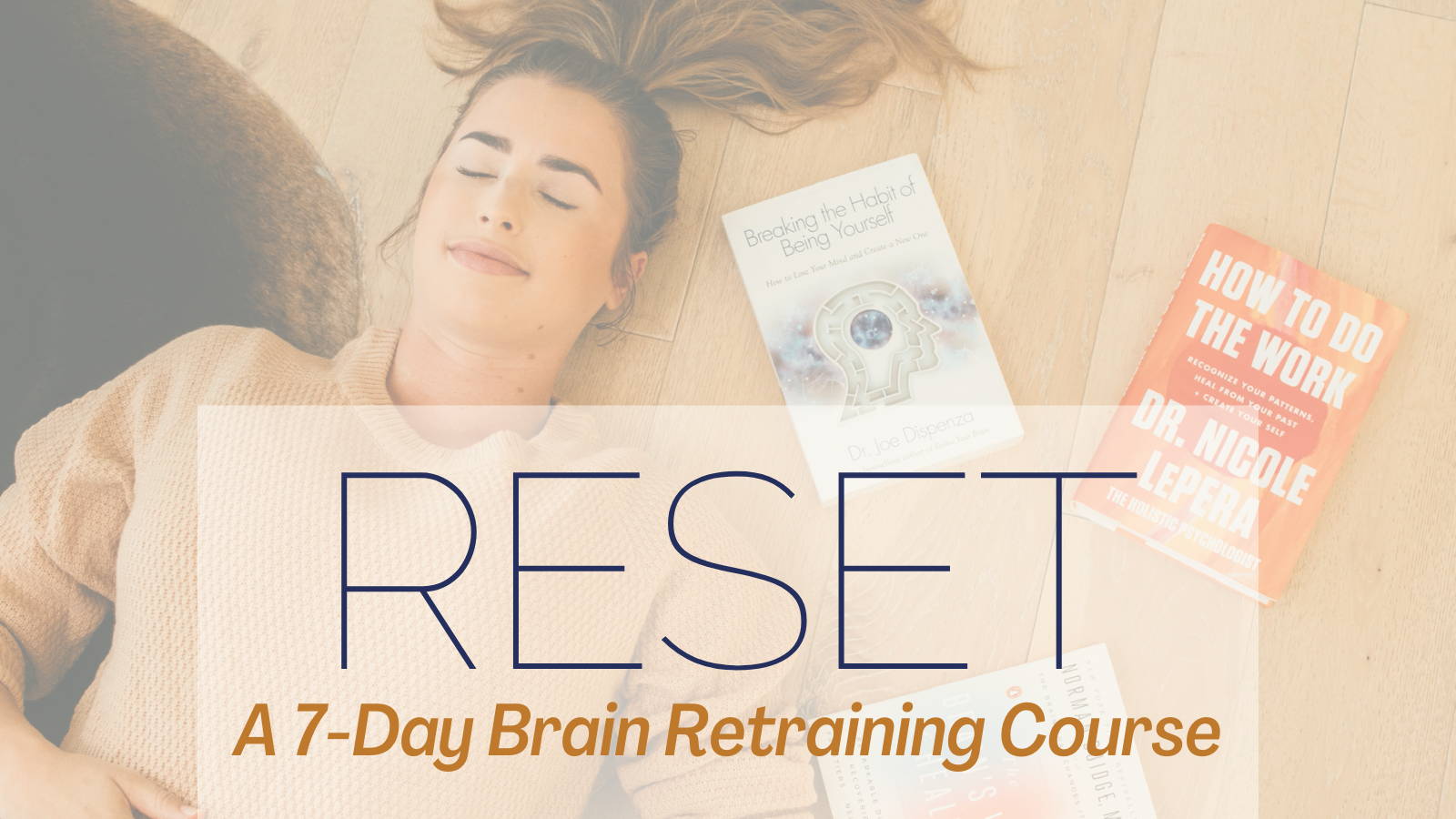 - Familiarize yourself with the concept of brain retraining.
- Learn mental exercises that help you connect with your body's natural resilience.
- Find out if Rewire, The Vital-Side Membership is right for you.
I loved the Reset! It was a brilliant introduction in thought reframing, which is so vital for recovery. My favorite part was learning to instill fun and playfulness into my practice. So much of illness and recovery is so serious, and it's wonderful to experience a different side to it all! It almost felt like a reawakening of my old, pre-CFS self again.
—Sophie
ME/CFS, post exertional malaise, nerve pain, fatigue, brain fog
Reset is jam-packed with ready-to-implement tools that make an immediate impact. I was surprised at how much was included in this introductory course! Additionally, Lindsay is truly an expert on all things brain retraining—she is an encouraging and gentle guide for the person seeking change and healing!
—Carrie
chronic pain, anxiety, insomnia, heart palpitations
The best and most important part of Reset is that it felt as if I was making instant progress towards healing from day one. Suddenly I had a realization that I had found something that could change the balance for me. The program made it possible to make small incremental steps each day that were easy to follow and fit into my day.
—Adam Thompsett
acid reflux, SIBO, food sensitivities, hypersensitivity
I used Reset before I purchased Rewire, The Vital-Side Membership. The interactive videos got me hooked. They are short, to the point, and make it easy to understand complex subjects and ideas. I just loved them! And then of course the quick state changers that you can implement on the stop. After watching all the videos I knew that I would love joining Rewire.
—Natasha
Lyme disease, mold illness
Reset helped me realize how often I'm in a constant state of stress and led me to show more compassion toward myself—it's not that there is something wrong with me—its the way we all are made. It also made me realize our responses to stress aren't "bad" as they are meant to keep us alive, but how often we are stuck in them is the issue.
—Chelsie
fatigue, anxiety, brain fog, dizziness, inflammation
I have been experiencing chronic stress for almost 6 years and I can't recommend Reset enough! I experienced remarkable changes during this 7-day course. My depression started to lift, my anxiety lessened, and I felt calmer and more relaxed. I saw my nervous system shift from sympathetic to parasympathetic in such a short time. It was incredible! I joined the Rewire, The Vital-Side Membership immediately afterward, and I'm loving the community & resources. I'm so impressed that Vital-Side has all the resources I will need for my brain retraining journey. Thank you, Vital-Side team, for creating an amazing program. I am forever thankful!
—Tesia
anxiety, depression
*Please note that we do not offer refunds on any memberships or sessions, as stated in our terms & agreements listed at the bottom of the site. You can always cancel your auto renewal & change your payment when you activate your membership.*