---
Retrain your brain out of the chronic stress response and see transformation to your physical & mental health.
Rewire, The Vital-Side Membership is a fully comprehensive course with 10+ hours of video content, a 64-page Guidebook, and tangible tools & science designed to help you retrain your brain out of the chronic stress response, which is vital in making a recovery from chronic symptoms & chronic illness. This is an annual subscription that offers a variety of tools to get into a primary state of the parasympathetic's growth-and-repair response, including mental exercises, mental rehearsal, and visualization techniques.
Visit our About Us page to see an overview of the conditions Vital-Side protocols can address.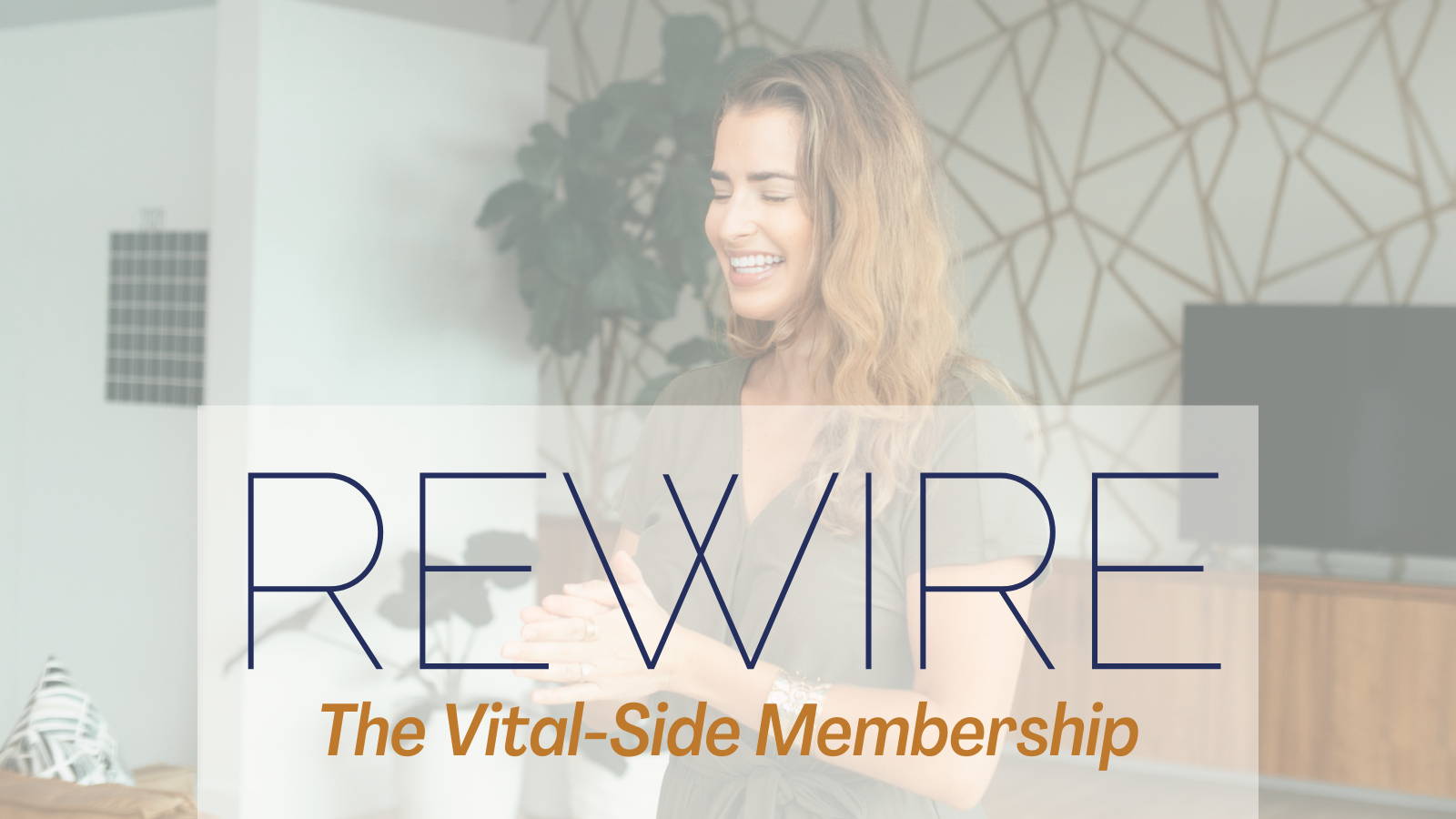 Rewire, The Vital-Side Membership
To access, click the button above and select "Choose a Plan". Then select "Join the Vital-Side Community To Access All Courses".
If you already have an account, click the button above and select "Sign In".
---
With a years' access, you can complete this course at your own pace and return to it at anytime. This is a 5-module course with 10+ hours of video, audio, and PDF content that is constantly being updated with the latest applicable neuroscience and mental exercises. I recommend you watch these videos in 5 days- 2 weeks (spending anywhere from 10 mins a day to 3 hours a day on the Vital-Side content). You'll leave with quick & simple brain training techniques to use throughout the day when you have a symptom and a daily protocol that takes 15-20 minutes to run through. I ask for a minimum commitment of 20 minutes (maximum 1 hour) of daily practice for the next 6 months for optimal results.
This is a 64-page guide to help you personalize and optimize your brain retraining practice. It will help you to consolidate the information, answer prompts, and have a go-to source for all assignments. Throughout the video course, you'll be using your Guidebook to follow along with the course material and apply it to your unique healing journey.
This private container allows you to step away from social media throughout the brain retraining process while still being able to connect with other Vital-Siders who are on similar paths. You can directly message the Vital-Side team & Lindsay with any questions and for recommendations on how to personalize your practice. In addition, the Vital-Side team provides prompts, posts, and relevant content to refer back to throughout your Vital-Side journey. Lindsay often presents weekly videos & lives about relevant topics & brain retraining clarification.
In private sessions, you can meet with Lindsay one-on-one to have your brain retraining practice personalized- to meet your specific needs. You can do this in a single, 75-minute Mastermind Session… then later complete one-off hourly sessions or a discounted package of 3 sessions. These can be scheduled at your discretion throughout your brain retraining process for additional support and to gain more personalized tools to reach actionable goals and find symptom relief. This is for you if you need extra accountability in your practice and want to transform your practice to make it align with your desires and needs. *Private sessions are currently only offered to people who have completed the Vital-Side Membership (or other membership programs.*
This community of brain retrainers meets every Tuesday evening from 5:30 PM CT – 6:45 PM CT. Each week, we review a new mental exercise to break the acute stress response, expand on one topic related to neuroplasticity, and check-in as a community to discuss our progress. Each session is recorded and uploaded the next day in our private cohort. Neuroplasticity topics include how to use strategic visualization in your practice, habit formation, epigenetics, and so much more! You'll also receive access to Vital-Side Ed's private cohort, get a weekly newsletter on our weekly topic (sent right to your inbox), and have the opportunity to connect with inspiring Vital-Siders in a more intimate setting. As a Vital-Side Member, you can get 1 week of free access to Vital-Side Ed for FREE!
These limbic system-specific meditations act as an adjunct to your existing brain retraining practice to help increase your focus and motivation. These meditations are included in the Vital-Side Membership and are paired with your daily. retraining practice to create versatility in your healing journey.
---
The Vital-Side process is structured, not rigid.
During the 5-module video course, I review the neuroscience and basic neurochemistry that is behind making changes to your brain. Because of my medical training, I always lead with the science first. Once you understand the neuroscience behind the brain and body connection, we dive into helpful modalities to use to optimize your physical and mental health.
The videos are supplemented by your personalized Vital-Side Guidebook, which is designed to help you integrate the information learned in the course & personalize it to meet your needs.
It's recommended to commit a maximum of two weeks time to finishing the course, carving out time to watch the videos every other day. This way, you have enough time to commit to the Guidebook assignments on your off-days. That said, I recommend taking this course at your own pace, on your own time. If you can simply commit 10 minutes a day to the course work, start there! In Vital-Side, we encourage you to start where you are.
---
Brain retraining is accessible to everyone, and you can personalize the process to make it your own.
First, we review how you got to this point: being in a constant state of fight-or-flight and how this has impacted the brain and the body.
Then, we review (in detail) the autonomic nervous system, and we start to make changes to your language and beliefs around your chronic symptoms.
After learning the science, we immediately jump into tools and techniques you can use throughout the day to make positive changes to your brain.
These exercises will then be used on your own for a minimum of the next 6 months. You can start with 10-20 minutes a day, and work your way up to 30 minutes or even an hour.
A unique component of Vital-Side is our quick techniques or "state changers" that can be used the moment you experience a symptom, to shift your brain's negative association to it.

You'll leave this course with a grab-bag of tools to use throughout the day, known as incidental training, and a longer technique that takes about 20 minutes to run through on your own in the process of incremental progress.
to learn more about my story and get answers to the most frequently asked questions
---
---
Hear from other Vital-Siders
Brina- recovery from anxiety, fatigue, & digestive issues
Jessica - in remission from Interstitial Cystitis (IC)
Carrie - recovery from burning skin sensations & food sensitivities
---
Already completed a brain retraining program?
If you have already completed a brain retraining program and have seen the value in the process, learn to personalize your practice with Elevate, Brain Retraining 2.0. It doesn't matter what retraining background you come from! All that matters is you're wanting to take your retraining journey to the next level.